Filling your lungs with song when cutting wood gives you more strength, not to mention it helps to pass the time.


You want to learn lumberjacking? Do you want to learn singing too? Singing is my real expertise!
What? You just want to learn lumberjacking?
Oh, alright... Well, lumberjacking is definitely a great skill to learn! The wood you get from lumberjacking, once crafted, can be used to make weapons, armor and other equipment.
Just click on any suitable trees you find to harvest them for lumber!
You should head out and try it now. When we lumberjacks say go, it's time to go! Hehe....
Harvesting Wood
[
]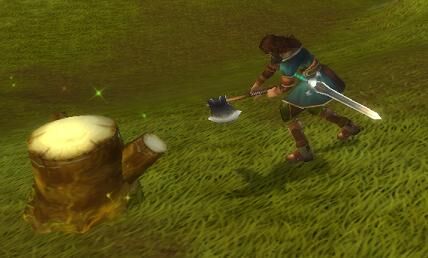 When observing your surroundings, those things that can be gathered will glow or glitter. You can also adjust the minimap settings to make collection points appear on the map. Click on the settings button on the minimap, then select which resources you want to display from the drop down menu. As you travel around, you will easily be able to see these resources on your minimap.
Those who look down on woodcutting would also be the first to break down in tears from actually doing it! To cut wood, find a suitable tree and then left-click on it.
For a complete table of all harvestable objects, see Resource Nodes.
Woodcrafting
[
]
Freshly-chopped wood can not be used to make products. You need to first prepare the wood through wood crafting.
You can find the "Carpentry" skill in the "Normal" tab on the "Skill" interface. In the carpentry production(woodcrafting) interface, select the item you want to produce from the list on the left side of the interface. Then, in the lower right part of the interface, select the quantity to be produced. If you have enough materials in your backpack, press "Craft" to begin work. However, you need to be near Carpentry Tools to begin carpentry.
Other Useful Links
[
]
Gathering Guide is a comprehensive guide which also contains more information about purchasing refining recipes.

Gathering is another guide for general basic and useful gathering skills information, along with level cap topic.

Crafting Quests contains available level cap raising quests information along with their locations.