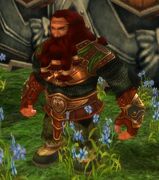 Summary
The thief is ready to return the beer, but there is "real" and "fake" beer. Can you recognized which one is real?
Notes
Spoiler Alert!
We have some more information about how to perform this quest but recognize you might want to try it on your own before we tell you the secret...
It is all fake (I think he drank it all)! After you examine all three

Andrew's Wine

barrels, go back and confront

Andrews Sterlin

.
Event Daily quests are repeatable, but only once per day unless a

 Festival Repeat Ticket is used.
This page relates to a quest, mob, event, or item involved in the annual

Juice Festival

(October to November)
Relevant Topic:

The Beer Thief


Relevant Year(s): 2020+