Tergothen Bay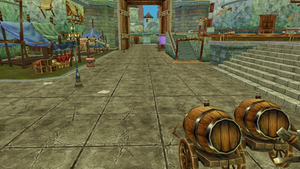 On a small offshore island lies the Kingdom of Lechif, a large city with a newly reopened weapons market. However, the demon Sismond has recently occupied Sardo Castle and now reigns over the land from this bastion of terror.— from us.runesofmagic.gameforge.com
Best route from Varanas to Tergothen Bay: (AKoR not opened) Go to Obsidian Stronghold (50
 ) and Obsidian Stronghold Mercenary Square, talk to the Hajiker Mashes [Envoy from Dalanis] to be teleported to Dalanis Old City District for free, run to the Snoop Portal and travel to Torag Caravan (9,000
 ).
(AKoR open) Via Snoop Portal - jump to Ancient Kingdom of Rorazan (2,200
 ), then to Thunderhoof Hills (2,200
 ), and finally to Torag Caravan in Tergothen Bay (9,000
 ).
Ailic's Community Transport Portal Location: Torag Caravan
The Janost Cypress Wood nodes in this zone will tend to be found at the base of trees, as normal, but often with two nodes instead of one. Do not get too excited, as the regular number of harvests for each of the two is 2-3, not the expected 6. When found one at a time, you will usually get the normal 6 resources.
Recipes purchasable in this zone are all in the 66 to 70 range, with some merchants only selling part of the available recipes.
There are two World Bosses in this zone: Targonharl [King of Beasts] in the Tadarn Plain, and Lagusen [Teeth of the Sea] on South Thornose Beach. Both have a chance to respawn, when killed, as the more powerful Furious version: Furious Targonharl [King of Beasts] or Furious Lagusen [Teeth of the Sea].
To summon Targonharl, place
 Ragemane Gnoll Blood ×10 in the center of the magic circle in the Ragemane Gnoll Camp. Apparently, the Ragemane Gnolls worship Targonharl.
To summon Lagusen, place
 Ocean Energy Crystal ×10 on the Sea Altar in South Thornose Beach.