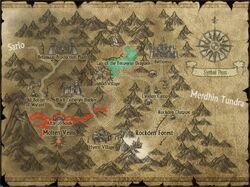 How do I get to Syrbal Pass the first time?: From Merdhin Tundra, take the east road past Spirit Mound in the Lygan Peaks.
Best route from Varanas to Syrbal Pass: Take Snoop Portal to Ancient Kingdom of Rorazan (2,200
 ), then on direct to Syrbal Pass at Hyern Village (6,600
 ).
Ailic's Community Transport Portal Location: Hyern Village
The Syrbal Pass Red Bulletin Board is in Lyndon Camp.
The House Maid in this zone, Sahaly Leitin, the mailbox, and the Snoop Portal are all in Hyern Village.
Other links
[
]
Safe Spot
[
]
There is an important "Safe Spot" on one corner of the Altar of Souls where Farental is chained. Find the corner where three Alliance Warriors are holding a beachhead. In the middle of them is safe! You can sit here and heal up, and safely hunt Zurhidon Occultists for Repossessing the Statue and
 Badge of Curse for Special Knack, Furious Molten Demons for Battle in the Lava, and Searing Enchanted Gas to get
 Steam Cores for Changing the Source of Supplies.
World Bosses
[
]
There are three World Bosses in this zone.