Rogue

Rogue class information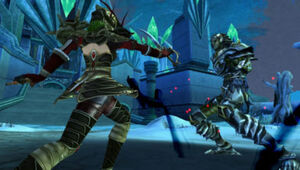 The following races can choose the Rogue class: Human • Elf • Dwarf
RoM website description
"The Cunning Scoundrel"
Rogues feel most at home in the winding back alleys of bustling cities – full of people and their poorly guarded purses. When backed into a corner, a conveniently concealed dagger is a Rogue's best friend.
Combat Role
Rogues are a melee-based damage dealing class. They can go into stealth to avoid being detected by their enemies. Rogues can dual-wield one-handed weapons, fighting with a weapon in each hand. They can use poison to increase their Damage Over Time.
Class Summary
  Combat Roles: Melee DPS
  Combat Resource: Energy
  Best Armor Type: Leather
  Best Primary Weapon Type: Dagger • Sword
  Best Ranged Weapon Type: Thrown

Attributes (Character Stats)
Primary Attribute
Dexterity (Dexterity increases physical attack power for Rogues, and increases accuracy and the ability to dodge.)
All classes need Stamina to increase their HP. Dungeon bosses often have area attacks that can kill players who neglect this stat.

Stat Values Gained from Equipment
values shown for 1 point of each stat - see Attributes for more details
| Strength | Dexterity | Stamina | Intelligence | Wisdom |
| --- | --- | --- | --- | --- |
| | | | | |
Base Attributes
Strength: 12 • Dexterity: 14 • Stamina: 11 • Intelligence: 7 • Wisdom: 7
Equipment Available
Weapon Types

(1H)
Dagger
1H
Sword
1H
Axe
1H
Hammer
2H
Sword
2H
Axe
2H
Hammer
(1H)
Wand
(2H)
Staff
(R)
Bow
(R)
Crossbow
(R)
Thrown

only

only

only

only

only
Armor Types

| Cloth | Leather | Chain | Plate | Shield | Talisman |
| --- | --- | --- | --- | --- | --- |
| | | | | | |
Class Combos
Skill Combos
General Combo
20 energy regenerates every 4 seconds. The range on energy gain reflects the variable 4-second timing.
Red energy costs may exceed normal energy regeneration.
In "free" seconds, a rogue can use items or no energy skills (second class skills, throw skills, etc.).
Notes
More info