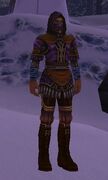 You need to be at least Level 40 to receive this quest.
You need to be at least Level 34 to turn-in this quest.
Summary
Go to Winternight Valley and find Green Magic Source. After using Empty Magic Crystal to collect Green Magical Energy, return to Tokamofi.
Goals: Green Magical Energy
Details
To summon this "powerful" creature from the darkness requires five different types of magic. By making use of these complementary powers, this "powerful" creature can pass through space-time to enter our world.

The first required power is Green Magical Energy. This is a kind of magic power that comes from mother earth and green plants. After hearing me say this, you will already have noticed the problem here. In the Ystra Highlands, which are covered in snow year-round, this happens to be the power that is the most lacking. But don't fret, I explored the land and it just so happens that the rare Green Magic Source (item) can be found in some areas in the Winternight Valley. I think this might also be the reason that the area nearby is full of Highlands Demon Weeds.

Take this Empty Magic Crystal to Winternight Valley and after you find the Green Magic Source, carefully collect the Green Magical Energy and bring it back.
Notes
Spoiler Alert!
We have some more information about how to perform this quest but recognize you might want to try it on your own before we tell you the secret...
Completion
Spoiler Alert!
This text may, or may not, contain information about future tasks or game lore...
When you held the

Green Magical Energy

in your hands, did you feel the gentle green power of mother earth?