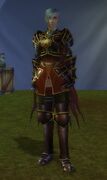 You need to be at least Level 51 to receive this quest.
You need to be at least Level 45 to turn-in this quest.
Summary
This quest is from Redsnow Kloka:

Find Redsnow Kloka at Norzen Camp after the task is completed.



Daily Quests

are repeatable up to a total (for all

Daily Quests

) of 10 times per day. The count can be reset to zero by purchasing and using a  Daily Quest Ticket from the Item Shop (for 39 ($1.16)† ) or from any Phirius Merchant (for 780 ).

You can add to your XP and/or TP gain by using one or more Leveling Potions such as a  Dual-Function Daily Quest Potion.

During an XP/TP boost weekend, be sure to stock up on  Daily Quest Tickets and use them in conjunction with a  Dual-Function Daily Quest Potions to turbocharge your XP/TP gain! In some zones you will find quest items that can be farmed and stored. This allows you to pop a Leveling Potioon and turn-in mass quantities of Daily Quests in a very short time. Watch for Quest Items that say they are stockable/can be stockpiled.