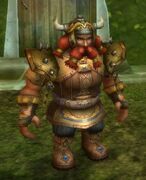 This quest becomes trivial above Level 99.
Summary
Win 2 rounds from each of 3 Cheers Duel Players. The 2 rounds do not have to be part of the same game. If you fail, challenge again until you have won 2 rounds.
Details
There are five card players scattered in 'The Stumbling Knight' Inn. You must challenge and defeat three of them.
Notes
Spoiler Alert!
We have some more information about how to perform this quest but recognize you might want to try it on your own before we tell you the secret...
This quest was added to the end of The Beer Thief for the Juice Festival in 2021.
To start this quest, speak to the third instance of Dukar Sterlin inside of 'The Stumbling Knight' Inn.
You need to win 2 rounds from 3 of the 5 Cheers Duel Players. The quantity of the reward indicates the difficulty of each player.
Event Daily quests are repeatable, but only once per day unless a

 Festival Repeat Ticket is used.
This page relates to a quest, mob, event, or item involved in the annual

Juice Festival

(October to November)
Relevant Topic:

The Beer Thief


Relevant Year(s): 2021+