Have you ever experienced the happiness of mining under the shining sun as sweat rolls off your brow? Perhaps you've felt a different kind of joy from toiling away deep underground? Do you want to learn mining?


Good! Seldom do I meet someone who agrees so heartily! I can't keep track of how many people have already been scared away today...
Don't think that mining is just for physical exercise! Sure, mining is tiring work, but the ores you gather through mining, once smelted, can be used to make all kinds of weapons, armor and other equipment. This is a very useful skill.
Mining is very simple: just click on any pile of ore you come across!
Now head out and unleash that miner's blood in you! Good luck!
Mining Ore
[
]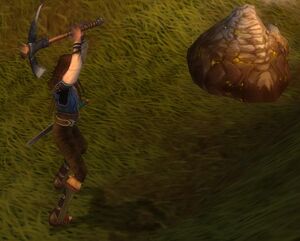 When observing your surroundings, those things that can be gathered will glow or glitter. You can also adjust the minimap settings to make collection points appear on the map. Click on the settings button on the minimap, then select which resources you want to display from the drop down menu. As you travel around, you will easily be able to see these resources on your minimap.
I can certainly teach you some basic techniques, but mining is tough! First you must find a mineral vein suitable for the level of your skills. Then left-click the vein to start mining.
For a complete table of all harvestable objects, see Resource Nodes.
Smelting
[
]
directly using ores mined out of the ground is not enough, products require ore in a purer state. This is when refining ores is important.
You can find the "Smelting" skill in the "Normal" tab on the "Skill" interface. In the smelting production interface, select the item you want to produce from the production list on the left side of the interface. Then, in the lower right part of the interface, select the quantity to be produced. If you have enough materials in your backpack, press "Craft" to begin work. However, you need to be near Blacksmithing Tools to begin smelting ore.
Other Useful Links
[
]
Gathering Guide is a comprehensive guide which also contains more information about purchasing refining recipes.

Gathering is another guide for general basic and useful gathering skills information, along with level cap topic.

Crafting Quests contains available level cap raising quests information along with their locations.


Subcategories
This category has the following 5 subcategories, out of 5 total.
Pages in category "Mining"
The following 37 pages are in this category, out of 37 total.