Category:Alchemy
"Alchemy is the art of manipulating life, and consciousness in matter, to help it evolve, or to solve problems of inner disharmonies." - Jean Dubuis


Or in the world of Taborea, it is the art of gathering various herbs and regents to later be combined in a boiling cauldron
to create powerful potions to aid your allies, or possibly hinder your enemies.

Like other crafting skills, you must not only have the recipe, and listed ingredients, but you must also be -at- a crafting station.

Remember, crafting stations are always marked by the giant neon green arrow which is also bouncing. Above which is a floating icon of the applicable trade. For alchemy, we are looking for bubbling cauldrons, and boiling beakers.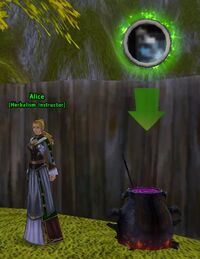 Certain potions have a green variant. The recipes for these can be found throughout the world.

Alchemy recipes for level 11 and above will require the use of 1 Blend Rune.
Subcategories
This category has the following 5 subcategories, out of 5 total.
Pages in category "Alchemy"
The following 8 pages are in this category, out of 8 total.