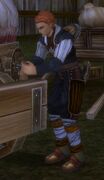 You need to be at least Level 47 to receive this quest.
You need to be at least Level 41 to turn-in this quest.
This quest becomes trivial above Level 57.
Summary
Take the Infernal Machine Wreckage to Chafftis Longhair.
Notes
Spoiler Alert!
We have some more information about how to perform this quest but recognize you might want to try it on your own before we tell you the secret...
Chafftis Longhair

is under the awning behind the magic circle at the back of the camp, surrounded by pieces from several

Infernal Machines

.