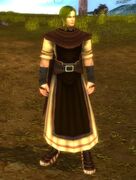 You need to be at least Level 79 to receive this quest.
You need to be at least Level 73 to turn-in this quest.
This quest becomes trivial above Level 89.
Summary
Infiltrate the area where Iswan Giant was captured and find out what strange things have been happening with the Byalant Guardians.
Notes
Spoiler Alert!
We have some more information about how to perform this quest but recognize you might want to try it on your own before we tell you the secret...
Iswan Giant

is at the Alliance camp atop the walls of

Byalant Production Plant

.